The YaYuCo 2020 has been cancelled! New date is 5.-7.11.2021
The booking dates of 2021 will be released on New Year!
Accommodation
Accomodation standard is a 4-bed room with sink and shared toilets + bathroom (lockable, of course!) on the same floor. You can also book upgrades for 2-bed rooms and rooms (4 beds/2 beds) with own bathroom.
Please understand that we don't offer mixed rooms (m/f) unless you book as a group!
Food
At the YaYuCo, there will also be delicious food! If you want to eat at the convention, you need a meal receipt (which we call "Futterschnipsel"). You can book them together with your ticket or separately. We recommend to book meals in advance as we only have a limited contingent!
If they are sold out or you prefer to eat out, there are several options in the vicinity of the YaYuCo (see Surroundings).
A so called "Futterschnipsel" (meal coupon) costs 7€ and covers:
Main dish (1 serving)
Side dishes
Salat buffet
Drinks (as much as you want)
Dessert
Fruits
Mealtimes:
Breakfast: 7:30 am – 10 am
Lunch: 1:30 pm – 2:30 pm
Dinner: 6:30 pm – 7:30 pm
Bringing or having delivered food bought outside (e.g. pizza, fast food…) to the youth hostel is not permitted. Of course you are allowed to bring homemade sandwiches, snacks and the like.
Payment
Important: Please pay only AFTER receiving a confirmation by email!
Money transfer or Paypal: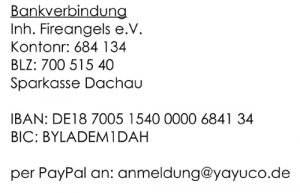 Reference: YaYuCo, order number, name of the purchaser
Cash by post:
You can safe the money transfer fee from abroad (e.g. Switzerland) by sending the money by post. The securest way is sending as registered mail in an air cushion envelope.